Bonanza from RBI to reduce government's fiscal pressure
NEW DELHI: At the Reserve Bank of India's board meeting on Friday, some of the board members suggested that the central bank could consider transferring a larger surplus to the Centre, a suggestion that is usually lapped up by the government.
Surprisingly, economic affairs secretary Ajay Seth, the newly appointed government nominee on the RBI board, expressed his satisfaction with the Rs 99,122 crore that the central bank proposed to transfer in line with the formula provided by an expert committee headed by former governor Bimal Jalan.
After all, the central bank's transfer itself is a bonanza for the Centre that had budgeted for Rs 53,511 crore dividend and surplus from public sector banks and financial institutions as well as RBI. The surplus transfer is more than twice the expected Rs 45,000 crore for the current fiscal year.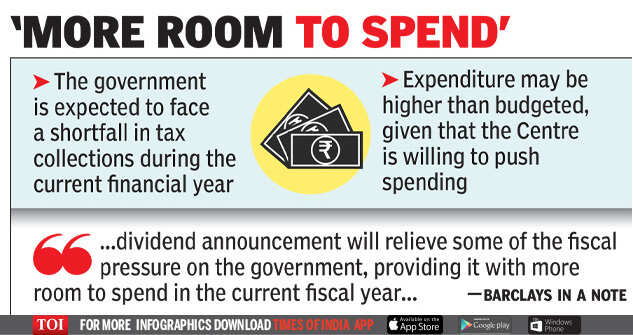 By all accounts, it will provide a much-needed cushion for the Centre, which is expected to face a shortfall in tax collections during the full financial year, given that a bulk of the first quarter, if not the entire three months, is going to see below normal economic activity. During the current financial year, the government has budgeted for a near 17% rise in gross tax collections.
On the other side, expenditure may turn out to be higher than budgeted, given that the Centre is more than willing to push spending and may have to allocate more funds in the coming months to combat Covid-19.
Besides, the fate of the government's privatisation drive is also unclear amid a raging pandemic.
The extra funds could also be deployed by the Centre to provide support to the vulnerable segments.
Given the bank results so far, the finance ministry is expected to ensure that the comfort in the dividend account in the financial sector only goes up. Already, SBI has announced a 40% dividend and the improved showing across the public sector is going to push them to increase their payout.
"We think today's dividend announcement will relieve some of the fiscal pressure on the government, providing it with more room to spend in the current fiscal year. This could be particularly helpful in alleviating the impact of the second Covid-19 wave," Barclays economists Rahul Bajoria and Shreya Sodhani said in a note.